PROJECT SCOPE:
· Terminal building on four levels totalling 180,000 m2, with designed systems for 4000 departing passengers per hour.
· 18 fixed link departure gates with passenger boarding bridges.
· 6 remote aircraft stands.
· Aircraft apron construction - 140,000 m2

· Taxi lane, taxiways and parallel taxiway construction -

220,000 m2

· Connecting road network including access ramp to elevated

departures area.

· Substantial open car parking and five story multi level car park.

· Special Systems and Plant including:

| | |
| --- | --- |
| · Baggage Handling System | · Building Management System |
| · Fire detection and alarm systems | · Passenger Boarding Bridges |
| · Terminal Management System | · Fuel Hydrant System |
| · Gate Allocation System | · Apron and Airfield Lighting Systems |

DCI SCOPE:
Provision of Quality Assurance Services including:-
· Development and implementation of a comprehensive Quality Assurance system from design stage, through pre construction up to final completion for all construction elements, including structural and building works, mechanical and electrical works, electro-mechanical equipment and systems, civil and utility works.
· The Quality Assurance system is designed specifically to ensure, with recorded evidence, that all elements have been monitored and checked for conformity with the contract requirements of quality and performance standards. The QA system also provides for contemporary and comprehensive reporting.
Provision of Contract Management Services including:-
· The independent monitoring and reporting on progress achievement in relation to planned progress and established milestones.
· Development and implementation of procedures for evaluating proposed changes and deviations in contract requirements.
· Providing advice and assistance to their Client upon the compliance of the Parties with the contractual and commercial aspects of the Concession Agreement.

PERIOD OF SERVICES:
· 1998 to 2003
---

AIRPORTS

New Domestic Terminal 2, Manila International Airport, PHILIPPINES
The development of domestic terminal facilities at this busy capital city airport had been largely overlooked and as a consequence, domestic operations were for many years (up to 1998), performed from a converted hangar building, situated at the end of Runway 13/31 and a considerable distance from the international terminal. A master plan and design for the new Terminal 2, was prepared by Aeroports de Paris (ADP) with financial assistance from the French government. Additional funding was provided by the Japanese government, through a loan from JBIC, which facilitated the construction of this project. The consultant's management team comprised a joint venture of ADP and Japan Airport Consultants Inc..
DCI provided contract management and co-ordination services throughout the pre-contract and post-contract stages with the assignment of senior personnel to the project management team.

CLIENT:
· Japan Airport Consultants Inc., for Manila International Airport Authority<![if !vml]>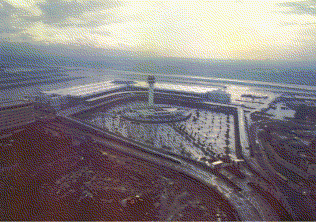 <![endif]>
PROJECT SCOPE:
· New terminal building , floor area 67,000 m2
· 14 Gates - 12 apron drive passenger boarding bridges and 2 bus gates
· New attached apron construction - 117,000 m2
· Remote apron construction to the international terminal - 60,000 m2
· Taxiways
· Aircraft fuelling facility
· Roads and car parking, sewage treatment plant
· Provision of terminal and ramp equipment
PERIOD OF SERVICES:
· 1994 to 2001
DCI SCOPE:<![if !vml]>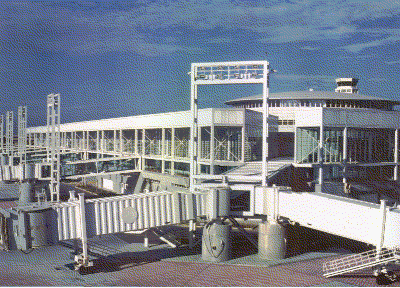 <![endif]>
· Review, preparation and co-ordination of bid documentation
· Prequalification and bidding assistance
· Negotiation and contract award
· Contract management, co-ordination and administration
· Progress and commercial monitoring and control
· Completion and hand-over services
---

AIRPORTS
Mactan (Cebu) International Airport, PHILIPPINES

<![if !vml]>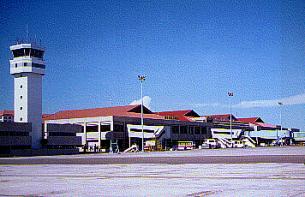 <![endif]>Cebu, known as the Queen City of the South and as the second city of the country, is a thriving and fast expanding commercial, industrial and tourism centre, attracting considerable international investment and consequently high volumes of domestic and international air traffic through its new gateway airport. The Philippines Government received the financial assistance of the Japanese Government through JBIC loan, to facilitate implementation of the extensive upgrading and expansion programme on this busy operational airport.
In addition to serving as a busy domestic hub, the airport is served by international flights from Singapore, Malaysia, Hong Kong, Japan and Taiwan. The ongoing airport operations demanded the highest levels of planning, control and co-ordination throughout the construction works.
CLIENT:
· Japan Airport Consultants Inc. for Department of Transportation and Communications

PROJECT SCOPE:
<![if !vml]>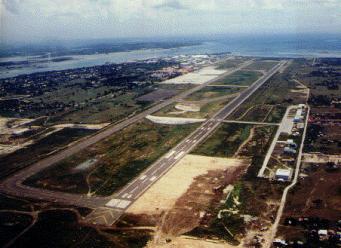 <![endif]>· Runway - repaired, asphalt overlaid and extended to 3,300m
· Taxiways - repaired, asphalt overlaid and extended
· Apron - repaired, concrete overlaid and extended
· New domestic terminal 22,500 m2
· Renovated international terminal 21,500 m2
· Sewage treatment plant and full utilities
· Site improvements, roads and car parking
PERIOD OF SERVICES:
· 1990 to 1992 - pre-contract
· 1993 to 1998 - post-contract<![if !vml]>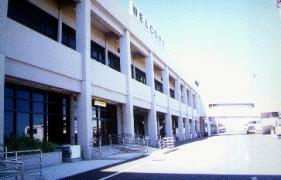 <![endif]>
DCI SCOPE:
· Production, review and co-ordination of bid documentation
· Bid assistance, evaluation, negotiation and contract award
· Project management, planning, co-ordination and liaison
· Commercial and contract management
· Civil works supervision
· Completion and hand-over services
---
AIRPORTS
Iloilo Airport, Western Visayas, Philippines
Iloilo City, situated in central Philippines on the east-coast of Panay Island, is an important commercial and agricultural centre, and its existing airport is the fourth busiest in the country in terms of the number of passengers handled. The existing airport has however been facing problems including obsolete facilities and operational limitations due to obstacles in the airport vicinity. Expansion at the existing airport site cannot take place due to the presence of roads, rivers and encroaching urbanisation. In 1997 the Japan International Cooperation Agency (JICA) conducted a study on selected airports in the Philippines and formulated long-term development requirements for four trunk line airports, including Iloilo. The ultimate recommendation for Iloilo, was that it would be more cost effective and preferable to develop a new airport in another location close to the Iloilo City, rather than attempt to upgrade the existing.
DCI's client, Japan Airport Consultants Inc. (JAC) in association with PhilJAC, Inc., was appointed for Master Plan and Feasibility Study (1999) and the Advance Engineering Study (2000). In 2001 JAC were appointed for the design and construction supervision services for the "New Iloilo Airport Development Project".
CLIENT:
· Japan Airport Consultants Inc. for <![if !vml]>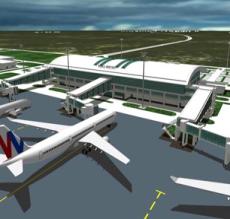 <![endif]>
Department of Transportation and Communications
PROJECT SCOPE
· Land preparation and earthworks (2,200,000m³)
· Runway (2500m) and exit taxiways
· Apron (45,000m²)
· Passenger Terminal Building (10,500m²)
· Cargo Terminal Building
· Administration Building
· Control Tower and Operation Building
· Fire Station and miscellaneous other buildings
· Water, electricity and telephone supplies
· Sewage system and Sewage Treatment Plant
· Fuel farm and fuel hydrant system<![if !vml]>
<![endif]>
· Radio navigation aids including CAT1 ILS, ATS
· Communication systems
· Airfield lighting system
· Meteorological observation system
· Fire and rescue equipment
PERIOD OF SERVICES
· 2001 - 2008
DCI SCOPE
· Production of prequalification documents, evaluation criteria and guidelines
· Design team coordination
· Preparation of bid documents, bidding procedures, evaluation criteria and guidelines
· Bid evaluation, negotiation and contract award
· Contract management and administration
· Progress monitoring and control
· Staff training
· Completion and hand-over services

<![if !supportLineBreakNewLine]>
<![endif]>